We've been eagerly anticipating the arrival of New York City's fabled vegan bakery, Babycakes, here in L.A. and our patience has finally paid off! The brand new Los Angeles location of Babycakes opens this Sunday (January 3rd)! They even made a super cute video about it… check it out below:
(if you can't see it, click here)
In their own words: "BabyCakes offers all-natural, organic and delicious alternatives free from the common allergens: wheat, gluten, dairy, casein and eggs. Rest assured, all sweeteners have been chosen responsibly and used sparingly. White sugar will never be found in our bakery, nor will we ever use toxic chemical sweeteners. Instead, most products are sweetened with agave nectar—a natural syrup from a cactus which is low on the glycemia index and often a safe alternative to most non-insulin dependant diabetics. Occasionally, unprocessed and unrefined sugar is used in certain goods, although sparingly."

Babycakes makes all kinds of goodies, including cupcakes, loaves, cookies & cookie sandwiches, crumb cakes, muffins, skinny bunnys, cinnamon & sugar toasties (what's that? I want one!) spelt tea cakes, brownies, macaroons, scones, savory items, apple pie and more. And the best news I've heard all day? THEY WILL ALSO HAVE DONUTS!!!
The grand opening is Sunday, January 3rd at 10am. If you're one of those who will be waking up early to push your way past all the other bloggers trying to be the first to eat there, feel free to come back and leave a comment telling us what you thought!
Find the brand spankin' new Babycakes Los Angeles in Downtown at:
130 East 6th Street (between Main St. & Los Angeles St, near Cole's Buffet)
Los Angeles, CA 90014
(213) 623-5555
www.babycakesnyc.com
www.twitter.com/babycakesnyc
Did you know Babycakes also put out a cookbook?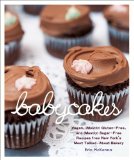 BabyCakes: Vegan, (Mostly) Gluten-Free, and (Mostly) Sugar-Free Recipes from New York's Most Talked-About Bakery
By Erin McKenna
Publishers description: Simply, BabyCakes is your key to an enlightened, indulgent, sweets-filled future. This is important news not only for parents whose children have allergies, for vegans, and for others who struggle with food sensitivities, but also for all you sugar-loving traditionalists. The recipes in these pages prove that there is a healthy alternative to recklessly made desserts, one that doesn't sacrifice taste or texture.
Having experimented endlessly with alternative, health-conscious sweeteners, flours, and thickeners, Erin McKenna, the proprietress of beloved bakery BabyCakes NYC, developed these recipes–most are gluten-free, all are without refined sugar–in hopes of combating her own wheat, dairy, and sugar sensitivities. In BabyCakes, she shares detailed information about the ingredients she uses (coconut flour, xanthan gum, and agave nectar, for example) and how to substitute them properly for common ones–all the while guiding you safely through techniques she's spent years perfecting.
For confectionists of all kinds, delicious alternatives lie within: Red Velvet Cupcakes, Chocolate Shortbread Scones with Caramelized Bananas, Strawberry Shortcake, and BabyCakes NYC's celebrated frosting (so delicious it has fans tipping back frosting shots!), to name just a few. Finally, Erin's blissful desserts are yours for the baking!
For more info or to order your copy, click here.