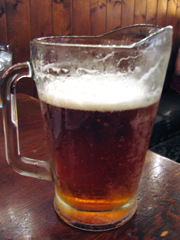 Did you get to hang out in oldschool pizza parlors when you were a kid? How great was Shakey's with their big wooden booths and delicious pizza you could keep going back for more of, pie after pie? My parents threw me a birthday party there when I was in first grade, I have fond memories. My friends and I switched to loitering at our local Pizza Hut after school when I was in junior high. I haven't been to a place like that in years considering they're a cheese & sausage fest, but finally we vegans get to experience that kind of pizza hang out fun again, nestled deep in the west valley at the Woodland Hills Pizza Cookery.
Pizza Cookery is an archetypal wood paneling era pizza parlor… giant tables matching the walls meant to seat groups and families, comfy seating, children running around being obnoxious, saw dust on the floor, overflowing pitchers of beer, and a new addition to the love affair we're having here… entirely separate Vegan and Gluten Free menus. It's actually quite astonishing when you walk into this place and it's all red-blooded, meat eating America like, and then you get handed your very own vegan menu, just for you. This place is lively and packed on the weekends (though we were seated within less than 5 minutes of waiting), and it's one of the most well integrated restaurants I've been to so far that caters so well to both carnivore and vegan satisfaction. Nothing fancy, just a good old fashioned good time while kicking back with tasty food.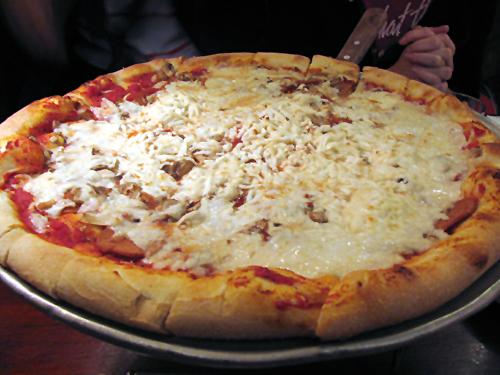 First the pizza- the pizza rules. They use Follow Your Heart cheese, and they use it well. My fellow foodeaters Alix & Shawn and I ordered a large 16 incher with mushrooms and vegan pepperoni. They also have a vegan smoked chicken as well as all the usual pizza toppings like bell peppers, black olives, tomatoes, and also fresh basil, garlic, cilantro, pineapple, jalapeño, eggplant, sun dried tomato, artichoke hearts… basically anything good you might what on it. The pizza was huge and smothered in melty-hot vegan cheese, tangy tomato sauce and a truly delicious crust. [If you are one of those people who don't eat their pizza crust, know that I consider you a weirdo.] They also slice it up all funky to maximize the amount of slices you can share, you end up with oddly shaped yet fun to eat mostly rectangular slices, I got one that was an oblong triangle shape. You can also order smaller pizzas or even mini individual sized versions.
For the gluten free set, they've got you covered with a staff that's trained in separate food handling ready to make you gluten free pizzas, pastas and salads.
None of us ordered a salad but we did see some of them being paraded around on their way to their respective eaters, and they were ENORMOUS. These were ridiculously large and gorgeous looking salads, though most of them were piled high with sliced meat. Pizza Cookery doesn't slack on us with the salads either as any of them can be made vegan and decked out with vegan cheese. These salads weren't kidding around.
Ok, so pizza is one thing, but there's more awesomeness where that came from. Pizza Cookery also makes it's very own Vegan Philly Cheesesteak. YES!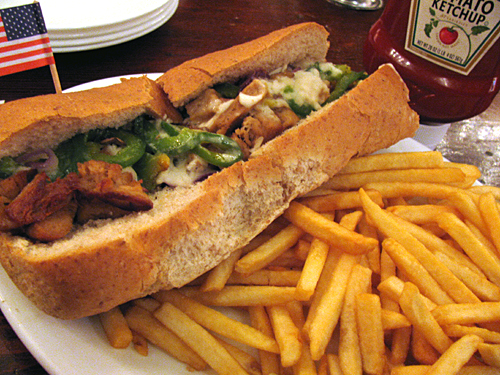 "Smoked vegan chicken, green peppers, onions, mushrooms and vegan cheese on a whole wheat or sesame french roll, with french fries". See that cute little American flag? That means it's all vegan. America, fuck yeah!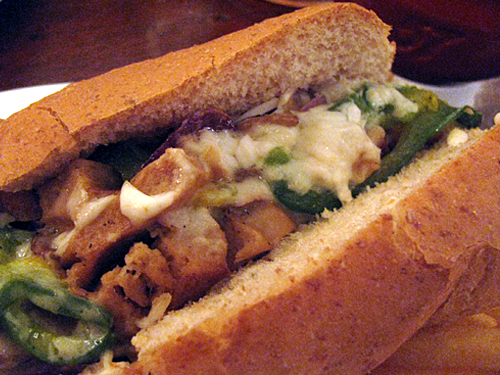 When our waitress first set this down in front of me I was pretty convinced that she had made a mistake and brought me real chicken. This stuff looks so much like the real deal that even after pulling it apart with my fingers I couldn't tell if it was real or not. Neither could my fellow diners.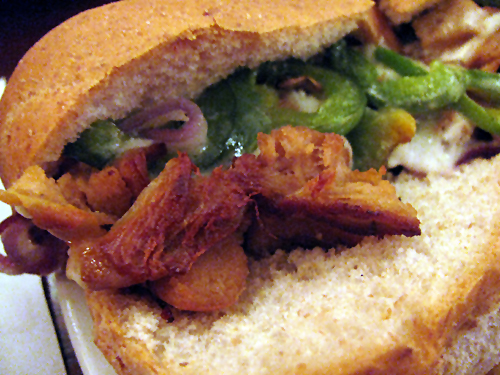 I called the waitress over and asked her what was up, she told me it was the vegan chicken for sure but she would send the manager over to talk to me. Manager lady was real sweet and sat down right next to me and busted out with her official ingredients notebook, armed and ready to answer any of our annoying vegan questions, as it should be. She readily showed me the info on the chicken, which it turns out is none other than yet again, vegan Follow Your Heart. She was really cool and you could tell this place is genuinely concerned with the well being of their alternate diet inclined customers. They've obviously gone to a lot of trouble to design their menu and pick out their ingredients, as she said, after a lot of taste testing and experimenting.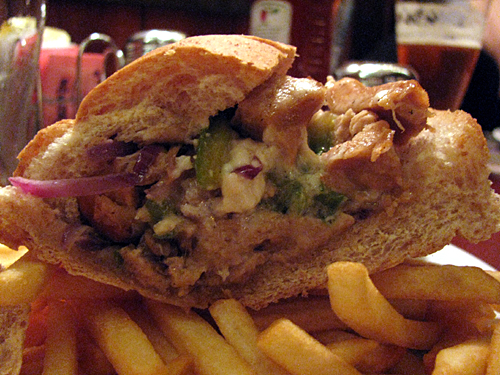 So back to the philly, now that I knew it was safe to eat, eat it I did… and wow, it's so good. The smoked chicken is fantastic, I'd never tried FYH's vegan chicken before and it not only looks real but it also has an incredibly well done texture and flavor. The smokiness had a lovely spice to it, like a hint of nutmeg or cinnamon. It's perfectly grilled along with the peppers, mushrooms and onions (which I picked out, natch). The cheese was nicely melted and the bread soft and toasty and OH MAN IT WAS SO GOOD!!! This is totally the sort of thing I've been craving and bam, here it is. The fries were perfectly crispy and reminded me of McDonald's fries, so of course they're good too. This would be right about the time for you to tell your New Years resolution diets to hit the road jack and go get some of this action on your plate… it's so worth it.
Prefer to get fat on beer? The draft beer has got you covered. Or does your ass prefer to get bigger via dessert? Then order yourself a couple SunFlour Bakery vegan cookies and wash them down with a Zevia "all natural, sugar free" soda. Black Cherry for me please.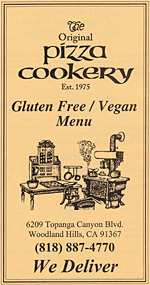 There's much to love about Pizza Cookery. All three of us appreciated that they haven't given in to the Daiya monopolization of their vegan pizza. Many of the places that at one point used to serve Follow Your Heart cheese have switched to Daiya. Teese was a player for about a minute but that vegan cheese seems to have been swept under the rug along with FYH now that Daiya has hit the scene. And understandably so, Daiya is all kinds of amazing. Both Shawn and I are fans of the stuff, but we also enjoy Follow Your Heart cheese too. Miss Alix on the other hand is on a different team along with the many other people out there who don't like Daiya at all… and folks like her are often left disgruntled with Daiya as the only option for fake cheesy goodness nowadays. She need not worry her pretty head any longer as now her Daiya-free prayers have been answered in the form of fantastic pizza in a groovy spot only a slightly annoying distance away from home. One more victory for the underdog, the San Fernando Valley brings it! Why don't you click here to read Alix's take on things?
This is the original Pizza Cookery on Topanga Canyon Blvd. at Erwin St. and should not be confused with the unaffiliated place with the same name on Ventura Blvd. That other Pizza Cookery does not have this vegan menu and is therefore to be shunned. I kid. But yeah, don't go there looking for this vegan bounty, go here:
Pizza Cookery
6209 Topanga Canyon Blvd.
Woodland Hills, CA 91367
(818) 887-4770
www.pizzacookery.com