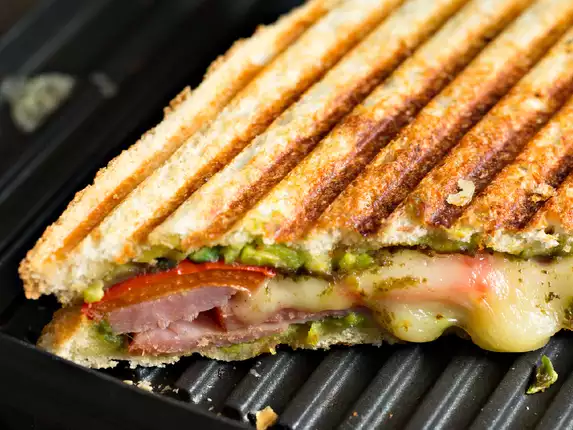 Apparently there's this whole panini obsession sweeping the land, hot on the heels of the cupcakes and Pinkberry fads. Everything's all panini this and panini that, and I totally get it, panini are delicious! Who doesn't like a toasty grilled, action packed sandwich? The downside for us herbivores is that panini are usually made with meat and cheese. Bummer.
To our rescue comes Press Panini in Studio City, on the same cute stretch of Tijunga Village as Aroma Cafe that I told you about the other day. Press Panini is a walk-up window service joint with tables out front and back. They've got an extensive menu filled with many amazing sandwich options, including a vegetarian section.
On this first visit I had tried the Grilled Tofu: grilled tofu, grilled onions, portabella, lettuce, tomato and olive with a raspberry vinaigrette. I requested that they leave off the onions and include roasted bell peppers instead.
It was awesome… just look… you can almost taste it, right? Yeah, this panini had it going on. Everything is made to order and grilled fresh. While it's not a vegetarian place, they are fully vegetarian and vegan aware. Last I was there the owners girlfriend worked there, and she is a vegan, so they totally get it. They even use a separate grill for the vegetarian panini so you don't have to worry about your tofu being grilled in meat juice.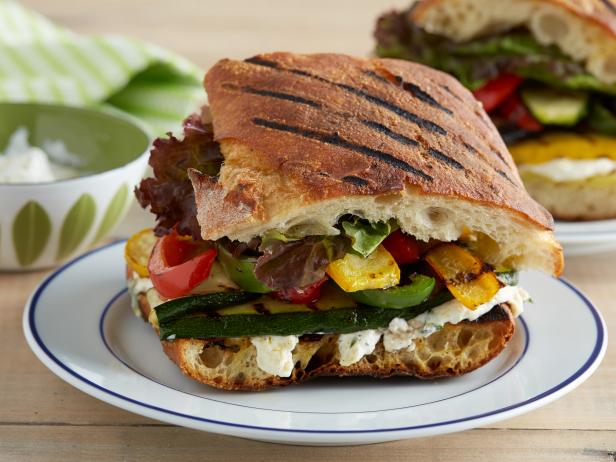 Back to the panini, the bread was perfectly crispy (tell them if you don't want it grilled with margarine), everything inside delicious and grilled nice & hot, with the raspberry vinaigrette tying everything together with a pretty and slightly sweet pink bow. Yum.
My next Press Panini adventure involved the Teriyaki Tofu: grilled tofu, grilled onions, portabella and avocado with teriyaki sauce. Again I got no onions, and again I loved it. The teriyaki sauce was just right, very flavorful but not too salty or overpowering. The nicely melted avocado was not only delicious but also added back in some of the cheesiness that you might be feeling deprived of. Sure, avocado tastes nothing like cheese, but the fattiness of it kind of tricks your palate a little bit. Again I must declare: Yum.
Can you handle more? They've also a big selection of salads, some already vegan such as the Grilled Vegetable Salad along with others the come with chicken, which they'll substitute tofu in for you.
They also serve homemade soups and there's usually always one available that's vegan, the Lentil and Bean Soup. Now I'm not a big soup person so I'm not an expert on the topic, however, this was perhaps the best lentil soup I've ever had. Really, it was so good… thick and hearty and filling, a meal in and of itself.
You can see I'm digging on Press Panini and I think you will to. There's parking in the back and you can expect a little wait because it's all grilled to order, and well worth your time. All the panini are $9 and they've also got daily kid sized specials for $5. There's a bit of whining on Yelp about the price, but the panini are large, delicious and will fill you up. I think it's worth what you pay for, but then again, I don't think $9 is too much for an awesome sandwich on a trendy street that no one should expect to be cheap in the first place. I'll say it again: Yum.
This is also a great option for going out to eat with people who aren't open to dining at exclusively vegetarian places (aka, my dad). There are plenty of options to make all present very happy.